Remdesivir injection is an antiviral drug used to prevent the replication of the virus. This is given in injection form administered intravenously. This drug is sold under the brand name veklury manufactured by the pharmaceutical company Gilead Sciences.
This is an important drug for the treatment of covid19 infection although previously it was used to treat other diseases like ebolavirus infection and hepatitis C. After subsequent studies it was found that this drug can also be used to treat the SARS covid 19 disease in case of hospitalized patients.
Chemistry
Remdesivir is derived from ribose derivatives. The molecular formula of this injection is C27H35N6O8P having a molecular weight of 602.6 g/mol. It is synthesized by various steps from ribose derivatives by forming multiple intermediates and then finally INJ Remdesivir is formed.

Molecular structure of Remdesivir
Uses of Remdesivir Injection:
This was earlier used to treat hepatitis c and later it was found to treat the Ebola virus. But looking at the unavailability of any drugs to treat the SARS covid 19 infection the FDA permitted for emergency use of remdesivir to covid19 infection in cases of patients experiencing severe symptoms and being hospitalized.
Seeing at the pandemic situation the FDA gave the authorization to use remdesivir in a person having a severe covid infection and not in need of supplementary oxygen in May 2020.
Veklury is indicated for the treatment of covid 19 cases for adults and children (aging more than 12 years and having a minimum body weight of 40kg).
Read More: Pantop D SR Uses | Combiflam Uses
Side Effects of Remdesivir:
Some common side effects of Remdesivir includes:
Nausea
Pain
Swelling and soreness at the site of injection
Dark urine
Yellow eyes
Stomach pain
Low blood pressure
Inflammation in the liver
If you're experiencing any of the side effects you should immediately inform your doctor and they will suggest medication seeing your problems. Most people don't produce any side effects.
Read More: Alkasol Syrup Side Effects | Cypon Syrup Side Effects
Composition of Remdesivir:
It comes as a 100mg /20 ml vial having betadex sulfobutyl ether sodium and HCL/NaOH for adjustment of pH.
Read More: Bifilac Syrup Composition | Mucaine Gel Composition
Dosage of Remdesivir Injection:
Before starting treatment with Remdesivir you need to check few things
Determine eGFR in patients before starting the treatment and monitor while receiving Remdesivir
Perform hepatic laboratory tests before starting and monitoring while receiving
Determine the prothrombin time of the patients before and while receiving Remdesivir
The Recommended Dose for Adults and Pediatric Patients:
The food and drug administration authority has approved the drug for emergency treatment for covid 19 patients who are being hospitalized. This drug can be used for adults and pediatric patients weighing more than 40 kg and age should be a minimum of 12 years.
The recommended dose for adults and pediatrics patients is a single dose of 200mg. Remdesivir on the 1st day followed by 100mg from day 2 onwards depending upon the severity of the patients for about 5 to 10 days. It is administered intravenously.
Remdesivir is available in two dosage forms one is in lyophilized powder form and the other is Remdesivir injection available in vials.
Preparation of Dose:
To prepare the dose in lyophilized powder available you need to follow some instructions:
Remove the required amount of lyophilized powder from the vial
Reconstitute Remdesivir lyophilized powder by adding 19 ml of sterile water for injection.
Discard the vial if the vacuum doesn't pull the WFI into the vial
Shake for 30 seconds
If the power settle down without dissolving then shake again for 2 to 3 minutes
Now use the reconstituted product to obtain the diluted drug product
Now dilute the reconstituted product only with sterile water for injection and use it immediately to avoid microbial contamination.
This injection comes in 100 mg /20 ml and it needs to be diluted with 100ml or 250 ml 0.9% sodium chloride in an infusion bag.
Withdraw the required amount of 0.9% sodium chloride from the infusion bag with the help of a syringe
Withdraw the required volume of Remdesivir for injection from the vial and discard the unused portion
Transfer the required volume of Remdesivir into the infusion bag
Invert the bag 20 times to mix the solution
The prepared solution is stable for 24 hours at room temperature and 48 hours at refrigerated temperature
Precaution Related to Remdesivir Injection:
You need to take some precautions before using it as it causes:
hypersensitivity reaction including infusion-related and anaphylactic reactions
It should not be administered along with chloroquine as it has antagonistic properties
It should be avoided in a pregnant woman as it can lead to miscarriage.
Remdesivir Price:
Due to the 2nd wave of covid in India the severity of corona cases is increasing the demand for Remdesivir injection has gone up and even there is a shortage of this injection in Indian markets.
So, the Indian government has capped the Remdesivir cost.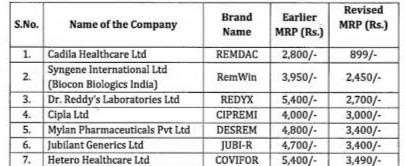 Read More: Ecosprin 75 Prices | Pan D Prices
Storage Conditions:
Don't store and reuse the left-out reconstituted Remdesivir injection as they don't contain any preservatives. The partially used vials also need to be discarded.
The Remdesivir injection vials and the lyophilized powder for injection both can be stored below 30oC and the reconstituted drugs can be stored at room temperature for 24 hours and at refrigerated temperature (2 – 8oC) for 48 hours.
The diluted injection can be stored for 24-48 hours in the infusion bag at room temperature.
When it is prescribed?
While the WHO claims that there is no evidence that it increases the survival rates. The doctors prescribe this drug only in case of patients who are hospitalized to reduce the number of days the patients spend in the hospital and apart from that the only way to treat covid-19 is by using steroids. But if steroids are given at an early stage then it can increase the mortality chances.
When it should be avoided?
Before taking this injection you need to inform your doctor about your medical conditions, ongoing medications, and whether you are allergic to Remdesivir. It should be avoided if you are having kidney and liver problems. In the case of pregnant and lactating women also it should be avoided.
Frequently asked questions( FAQS):
Q1. What is the role of inj remdesivir?
Ans: It is an antiviral drug that helps to fight covid19 infection
Q2. What is remdesivir?
Ans: This is the 1st medicine to be approved by FDA used to treat coronavirus disease.
Q3. Side effects of this drug?
Ans: Yellow eyes and skin, pain in the stomach, increase enzyme in the liver, dark urine.
Q4. Who should take it?
Ans: It should be taken in moderate to severe cases of covid19 infection when your oxygen level falls below 93.
Q5. Who should avoid it?
Ans: Persons allergic to ingredients if Remdesivir, pregnant and breastfeeding woman should not take this injection.
Q6. How long Remdesivir should be used?
Ans: From day 1 itself for 8-10 days.
Read More: Intagesic Mr | Aristozyme Syrup | Meftal P
Disclaimer: AlDoctor doesn't endorse or take any guarantee of the accuracy or completeness of information provided under this article and these are the views strictly of the writer. Readers are supposed to consult with their respective doctors before taking any medicine.