While most parents feel fulfilled to see their children grow up, it's not always the same the other way around. Getting older isn't easy for everyone, and if your parents harbor regrets and carry health issues, it can make their golden years more stressful. But as their child, you can help them the way they did when you were younger. To qualify for the residential care subsidy, seniors must meet certain criteria related to age, health conditions, and financial means. The process involves a thorough assessment of the individual's needs and capabilities. Once approved, the subsidy can significantly reduce the financial strain on families and allow them to focus on ensuring their elderly loved one receives the best possible care.
Even if you have children of your own, you still have a significant role in your parents' lives. You can motivate them when they feel there's nothing left for them to do. Not sure how? Here are some ways to help your senior parents live the best and most worthwhile years of their lives:
Change Their Location
Not everyone is fond of significant changes, especially if they're much older. If your parents have lived in the same location since birth, making them move to greener pastures may be challenging. Adapting to sudden changes isn't the best trait of many senior citizens. But if you believe they would fare better elsewhere, you might want to discuss it with them.
Some people don't realize that staying in one place for too long may be the reason for their stagnancy. Moving to another town with more opportunities and improved quality of life may make things better. However, as with any new thing, take it slow. You wouldn't want your parents to think you're forcing them into a retirement home.
So, take time to discuss this with them over a good meal. Your parents might be feeling that life after retirement will go downhill. Help them understand that while they're still alive and kicking, they can move out of their bubble and find a new purpose for their lives despite their age, even if that means going someplace else.
Get Them Exercising
People of any age need to exercise, more so for people past 60. As long as your parents have no severe medical conditions, they can maintain good health with different age-appropriate physical activities or social activities for seniors. Cycling, swimming, and walking are safe exercises for older people. You can also help them choose an indoor or outdoor workout.
For better participation from your parents, you and your children can join them the first few times. It could help build a stronger bond between you and your parents, as well as your parents and their grandchildren. It's also vital to remind them to visit their physician regularly to ensure their good health.
Enroll Them For Health Insurance
Even if your parents have cared for their health during their younger years, getting illnesses in their old age is inevitable. You never know when the worst might come, and as much as possible, you'd want to avoid it. Fortunately, many nations offer universal healthcare for their senior citizens, which your parents could claim once they reach a specific age.
Depending on your government's healthcare program, your parents could take advantage of discounts and special offers that make doctor's appointments a breeze.
However, the enrolment process can be confusing. If your parents are having trouble signing up, be there to assist when needed. Asking professionals, like those at Everdays, for advice can be helpful.
You mustn't let this kind of opportunity pass. Some might think enrolling in healthcare is tedious and doesn't have value. But if you want your parents to make the most of their golden years, they must stay healthy. Health insurance, like Medicare for seniors in the US, will provide some ease since they won't need to spend so much on regular checkups.
Go Sightseeing
Traveling is an activity everyone should do at least once in their lives. Your parents may have been too busy in their youth raising you that they missed out on the opportunity to travel. Now that your parents have more free time, you could book tickets to a destination they've always desired.
When choosing places to visit, consider your parents' condition. They may be physically fit, but not to the point where they can walk miles or hike up hills. Start with a tour of the nearest tourist destination before continuing to farther places.
Make it an annual family affair for more enjoyment, and let your spouse and children join the trip. Your parents will appreciate the bonding time while exploring a place they've never seen before. Even if you're touring a neighboring city, the time spent together in their old age matters.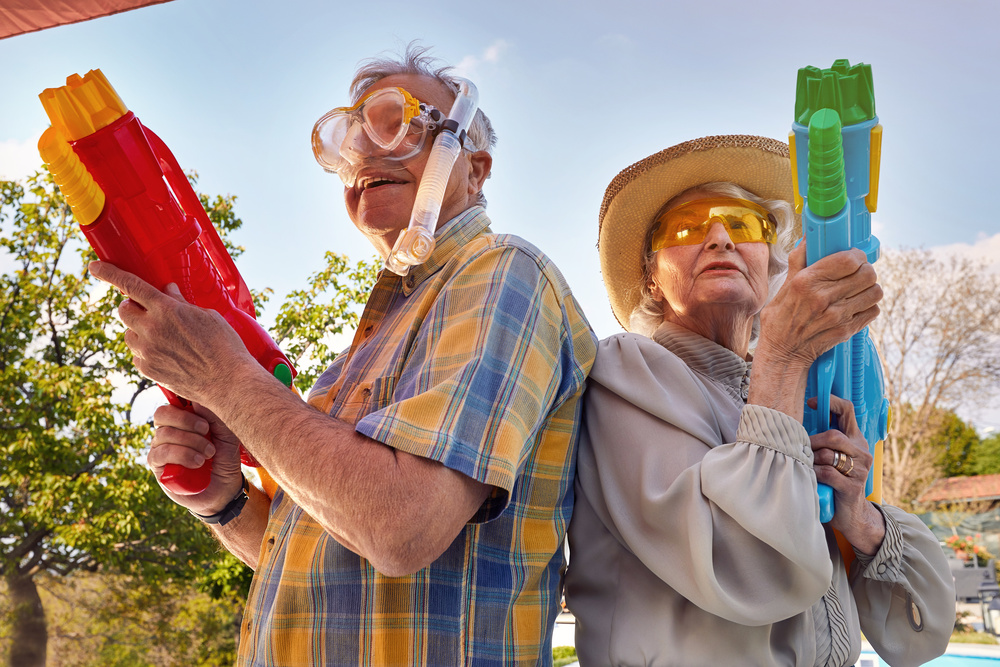 Step Outside
Many senior citizens feel lost and live sedentary lives because they think they're better off staying indoors. While old age may make people prone to illnesses, the outside world isn't hazardous, and they may boost their physical and mental health by going outside.
Keeping yourself cooped up at home can become depressing, especially for older people. Depression is harmful and can worsen as seniors become more afraid of passing away. But a simple activity like walking outside and breathing fresh air is an effective way to combat negative feelings. It may not be the ultimate cure, but it could help keep your parents mentally happy and stable in their golden years.
So, if your parents can't travel far, let them know that they can distract themselves from boredom and negative thoughts by spending time in their backyard or a nearby park. It's inexpensive to avoid an inactive lifestyle and see what life has in store.
Conclusion
Getting old is scary for some. It's possible that your parents won't even admit to being anxious about what's to come. By being there for them in both good and bad times, you're letting them know that they still matter to you. Their old age doesn't imply that they are worthless. Like your parents, those who have lived long, fulfilling lives are referred to as having reached their 'golden years.