All-on-4 dental implants offer an extremely effective tooth replacement option for patients who have lost or face losing all of their teeth in their upper or lower jaw (or both) due to injury, decay or gum disease. It also provides an innovative alternative for patients who do not want to wear removable dentures, which can be uncomfortable and cause eating and speaking difficulties.
In this article, we'll explore the All-on-4 procedure, what to expect during treatment, the benefits and who it is suitable for. We'll also take a look at some essential factors to consider before choosing your All on 4 provider.
What is the All-on-4 Dental Procedure?
The All-on-4 dental procedure involves the placement of at least four (sometimes up to six) dental implants into the jaw to secure a tooth bridge of up to 12 teeth in place. All-on-4 uses a special technique that places two straight dental implants at the front and two angled implants at the back. This precision placement allows the All-on-4 dentist to utilise more of the existing bone structure and bone density to stabilise the implants. By using this technique, even those who have experienced jaw bone loss can usually receive this treatment successfully without the need for bone grafting.
In most cases, the implant teeth can be fitted to the dental implants in as little as 3 days after surgery. This means patients don't have to be without teeth for lengthy treatment periods — they can restore their smile in just days.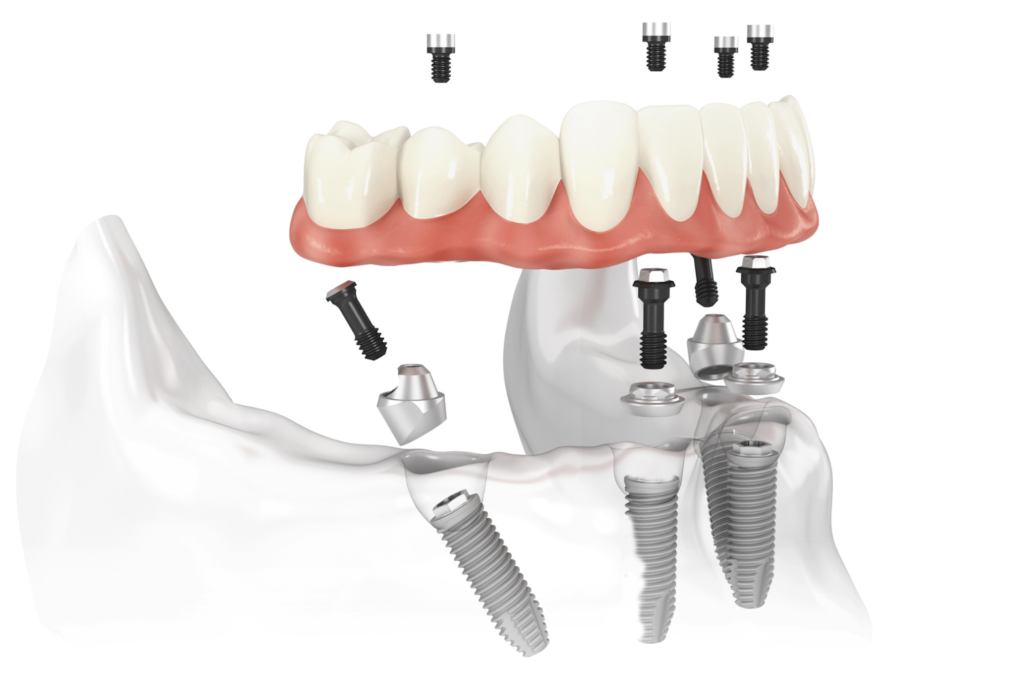 What Happens During the All-on-4 Procedure?
Here's a general overview of what you can expect before, during and after the All-on-4 dental implant procedure.
Consultation
During the consultation, your dentist will thoroughly examine your teeth and mouth, check your medical history and discuss your teeth replacement needs. X-rays or 3D scans of your teeth and jaw bone will be taken so the dentist can assess your suitability for treatment and provide accurate measurements for the placement of the dental implants. The dentist will take photographs of your smile to help with the planning of your new implant teeth, ensuring they achieve the best tooth shape, size and positioning. You'll also have a mould taken of your mouth to ensure optimum design and position of your new teeth.
Tooth bridges can be created using different materials. If your dentist offers more than one option, you may have the opportunity to see, feel and compare the different tooth bridges during this appointment.
Planning Phase
Careful planning is essential for the success of All-on-4 treatment.
Using the clinical notes, scans and photographs taken during your consultation, your dentist will plan the design of your replacement teeth, as well as the precise positioning of each dental implant.
Dental Implant Placement
The dental implants will be surgically placed into the jaw and the implant placement typically takes around 2-3 hours per jaw. This procedure also requires all of the existing teeth (if there are any) to be removed. Most patients will receive this treatment while under IV sedation or twilight sedation, helping them to remain relaxed and free from discomfort  during the implant surgery.
Tooth Bridge Attachment
In most cases, patients will be ready to have their replacement teeth fitted to their dental implants in just 2 to 3 days after surgery. Initially, an acrylic tooth bridge will be connected to the implants. This is a temporary bridge, designed to be worn for three to six months while the jaw bone and gum tissue heal. Some patients may opt to wear the acrylic bridge for longer, but most patients will upgrade to a more durable final tooth bridge as soon as their healing period allows.
Final Tooth Bridge Placement
After the patient's gums have healed and their jaw bone has successfully fused with the dental implants, the All-on-4 dentist will then attach the final tooth bridge. Typically, the final implant tooth bridge is made from stronger and longer-lasting materials,such as titanium, zirconia and ceramic.
Recovery
Like all medical procedures, it's important for patients to follow their implant dentists' aftercare instructions carefully after All-on-4 surgery. You may have some swelling, discomfort and bruising in the days following your procedure but this is usually minimal and can be easily managed with OTC pain medication. Most people can usually return to their normal routine after a few days of rest. But bear in mind, the jaw and gums will take approximately 6 months to completely heal.
What are the Benefits of All-on-4 Dental Implants?
All-on-4 has become a popular option for replacing missing teeth for several reasons. Here's a look at some of the key benefits.
Natural-looking replacement teeth in just days
All-on-4 teeth are designed to look, feel and function just like natural teeth. And thanks to the special implant technique, most patients can start enjoying their new smile in just a few days after surgery.
High success rate
Developed by Nobel Biocare, the All-on-4 treatment concept has over 25 years of documented clinical success and a 98% success rate.
A long-lasting solution for missing teeth
Titanium implants are incredibly durable, with studies showing they can last decades with proper care and maintenance.
Prevents jaw bone loss
Without a tooth to stimulate the jaw bone, the bone structures that support the teeth disintegrate. Inserting dental implants keeps the jaw bone stimulated, which prevents bone loss.
Rarely requires bone grafting
The specialised implant placement technique helps to reduce or sometimes eliminate the need for bone grafting. This means a quicker treatment time, less surgical costs and a more comfortable experience for patients.
Who is Eligible for All-on-4?
Most healthy people are good candidates for the All-on-4 implant procedure. This treatment is suitable for patients who:
Have lost most or all of their natural teeth in their upper or lower jaw
Have severely broken down, damaged or loose teeth
Have gum disease
Have jaw bone loss
Do not want to wear dentures
However, the best way to determine if All-on-4 is right for you is to speak to your All-on-4 dentist and have a proper suitability assessment.
How to Choose Your All-on-4 Dentist?
Before deciding on an All-on-4 dentist, here are some essential factors to consider:
· How long have they been performing the All-on-4 procedure?
· What All-on-4 training have they undertaken?
· Do they have plenty of before and after photos of their All-on-4 patients, including long-term cases?
· What patient follow-up do they provide?
· Do they offer more than one treatment option?
· What materials are used for the replacement teeth?
· Will you be given a treatment plan tailored to your needs?
· Do they have an All-on-4 Centre of Excellence distinction?
Now you know how All-on-4 works, its benefits, and who it may be suitable for, you can make an informed decision. Just imagine the joy of being able to smile confidently again!
---
Author:
Dr David Dunn
Bio:
Dr David Dunn is an aesthetic dentist from the Macquarie Street Centre For Implant & Aesthetic Dentistry in Sydney, Australia. With over 25 years of clinical and diagnostic experience, Dr Dunn's expertise is recognised nationally and internationally. He regularly lectures dentists both in Australia and abroad on how to achieve exceptional results with cosmetic dentistry and dental implants.